Boys and girls of every age, wouldn't you like to see something strange?
Come with us and you will see, this our town of Halloween.
This is Halloween. This is Halloween. Pumpkins scream in the dead of night.
This is...Liran's 2015 Halloween Reads recommendations because it's Halloween today and we're all going to spend the day (and night) reading, right?
Just don't read these in the dark...
ALIVE. DEAD. ALIVE AGAIN.
What's scarier than Frankenstein? I don't know. I was hoping you'd have an answer.
Synopsis:
In 1818 Geneva, men built with clockwork parts live hidden away from society, cared for only by illegal mechanics called Shadow Boys. Two years ago, Shadow Boy Alasdair Finch's life shattered to bits.

His brother, Oliver—dead.

His sweetheart, Mary—gone.

His chance to break free of Geneva—lost.

Heart-broken and desperate, Alasdair does the unthinkable: He brings Oliver back from the dead.

But putting back together a broken life is more difficult than mending bones and adding clockwork pieces. Oliver returns more monster than man, and Alasdair's horror further damages the already troubled relationship.

Then comes the publication of Frankenstein and the city intensifies its search for Shadow Boys, aiming to discover the real life doctor and his monster. Alasdair finds refuge with his idol, the brilliant Dr. Geisler, who may offer him a way to escape the dangerous present and his guilt-ridden past, but at a horrible price only Oliver can pay...
Imagine throwing your favourite fairy tale characters into your worst nightmare. Enjoy!
Synopsis:
It's a fairy-tale nightmare . . .
One girl is kept in a room where every day the only food she's given is a poisoned apple. Another is kept in a room covered in needles -- and if she pricks her finger, she'll die. Then there are the brother and sister kept in a cell that keeps getting hotter and hotter. . .

A sinister kidnapper is on the loose in Kate's world. She's not involved until one day she heads to her grandmother's house in the woods -- and finds her grandmother has also been taken. Already an outcast, Kate can't get any help from the villagers who hate her. Only Jack, another outsider, will listen to what's happened.

Then a princess is taken, and suddenly the king is paying attention -- even though the girl's stepmother would rather he didn't. It's up to Kate and Jack to track down the victims before an ever after arrives that's far from happy.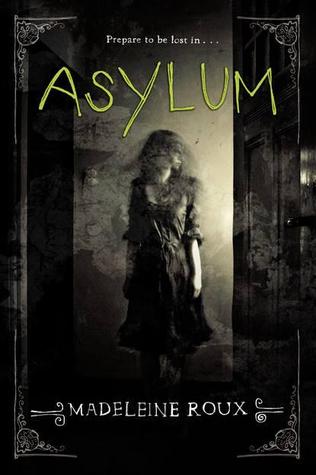 3) Asylum by Madeleine Roux
Asylum is PERFECT for American Horror Story Asylum fans.
Synopsis:
Asylum is a thrilling and creepy photo-novel perfect for fans of the New York Times bestseller Miss Peregrine's Home for Peculiar Children.
For sixteen-year-old Dan Crawford, New Hampshire College Prep is more than a summer program—it's a lifeline. An outcast at his high school, Dan is excited to finally make some friends in his last summer before college. But when he arrives at the program, Dan learns that his dorm for the summer used to be a sanatorium, more commonly known as an asylum. And not just any asylum—a last resort for the criminally insane.

As Dan and his new friends, Abby and Jordan, explore the hidden recesses of their creepy summer home, they soon discover it's no coincidence that the three of them ended up here. Because the asylum holds the key to a terrifying past. And there are some secrets that refuse to stay buried.

Featuring found photos of unsettling history and real abandoned asylums and filled with chilling mystery and page-turning suspense, Madeleine Roux's teen debut, Asylum, is a horror story that treads the line between genius and insanity.
Insane. Asylums. Have fun!
Synopsis:
Grace Mae knows madness.
She keeps it locked away, along with her voice, trapped deep inside a brilliant mind that cannot forget horrific family secrets. Those secrets, along with the bulge in her belly, land her in a Boston insane asylum.

When her voice returns in a burst of violence, Grace is banished to the dark cellars, where her mind is discovered by a visiting doctor who dabbles in the new study of criminal psychology. With her keen eyes and sharp memory, Grace will make the perfect assistant at crime scenes. Escaping from Boston to the safety of an ethical Ohio asylum, Grace finds friendship and hope, hints of a life she should have had. But gruesome nights bring Grace and the doctor into the circle of a killer who stalks young women. Grace, continuing to operate under the cloak of madness, must hunt a murderer while she confronts the demons in her own past.

In this beautifully twisted historical thriller, Mindy McGinnis, acclaimed author of Not a Drop to Drink and In a Handful of Dust, explores the fine line between sanity and insanity, good and evil—and the madness that exists in all of us.
A killer Dorothy. A dark Oz. Why haven't you picked this one up yet?
Synopsis:
I didn't ask for any of this. I didn't ask to be some kind of hero.
But when your whole life gets swept up by a tornado - taking you with it - you have no choice but to go along, you know?

Sure, I've read the books. I've seen the movies. I know the song about the rainbow and the happy little bluebirds. But I never expected Oz to look like this. To be a place where Good Witches can't be trusted, Wicked Witches may just be the good guys, and winged monkeys can be executed for acts of rebellion. There's still a yellow brick road - but even that's crumbling.

What happened? Dorothy.

They say she found a way to come back to Oz. They say she seized power and the power went to her head. And now no one is safe.

My name is Amy Gumm - and I'm the other girl from Kansas.

I've been recruited by the Revolutionary Order of the Wicked.

I've been trained to fight.

And I have a mission.
Like zombies? You'll LOVE Something Strange and Deadly!
Synopsis:
There's something strange and deadly loose in Philadelphia. . . .
Eleanor Fitt has a lot to worry about.

Her brother has gone missing, her family has fallen on hard times, and her mother is determined to marry her off to any rich young man who walks by. But this is nothing compared to what she's just read in the newspaper:

The Dead are rising in Philadelphia.

And then, in a frightening attack, a zombie delivers a letter to Eleanor . . . from her brother.

Whoever is controlling the Dead army has taken her brother as well. If Eleanor is going to find him, she'll have to venture into the lab of the notorious Spirit-Hunters, who protect the city from supernatural forces. But as Eleanor spends more time with the Spirit-Hunters, including the maddeningly stubborn yet handsome Daniel, the situation becomes dire. And now, not only is her reputation on the line, but her very life may hang in the balance.
I hope you all have a happy Halloween and remember, STAY SAFE!!!