Remember when I said it's Halloween year-round for me?
Yeah, I'm totally listening to This Is Halloween while I write this.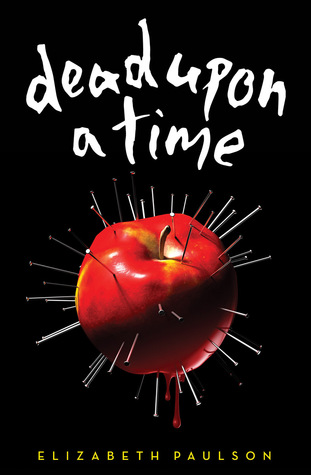 Book: Dead Upon A Time
Author: Elizabeth Paulson
Publisher: Scholastic
Genre: Horror, Fairy Tale Retellings, Mystery, Fantasy
Rating: 4.5/5 Stars
Summary: It's a fairy-tale nightmare . . .One girl is kept in a room where every day the only food she's given is a poisoned apple. Another is kept in a room covered in needles -- and if she pricks her finger, she'll die. Then there are the brother and sister kept in a cell that keeps getting hotter and hotter. . .

A sinister kidnapper is on the loose in Kate's world. She's not involved until one day she heads to her grandmother's house in the woods -- and finds her grandmother has also been taken. Already an outcast, Kate can't get any help from the villagers who hate her. Only Jack, another outsider, will listen to what's happened.

Then a princess is taken, and suddenly the king is paying attention -- even though the girl's stepmother would rather he didn't. It's up to Kate and Jack to track down the victims before an ever after arrives that's far from happy.
Review: "Over the river and through the woods...
to a killer's house we go."
I'm going to tell you all something that you already know if you've read some of my past reviews: I am a sucker for fairy tale retellings. As in, I will read any of them that you shove my way. Here's another fun fact about me: Halloween is my favourite holiday. (This is Halloween, this is Halloween pumpkins scream in the dead of night!) So of course I had to read a horror retelling that combined several fairy tales.
Thank goodness I did.
The writing and great plot made this book so easy to read (which is good because it's not a long book in the first place). It was also a lot of fun (as I'm sure you would expect) which I found refreshing in a sea of darker horror-y/mystery stories.
I really liked the characters too. Kate Hood (aka Little Red Riding Hood) made for a great protagonist. I liked her drive as a character and overall her personality. She came off likeable. The other characters were also great (go character development!) and I loved going on this adventure with them.
Dead Upon A Time is a fast-paced, clever mash up of beloved fairy tales that entertains until the very last page. Fans of Dorothy Must Die will love it!
***A copy of this book was provided to me in exchange for an honest review. It has in no way influenced my thoughts and opinions.