I thought I would like this one more. It was good but I don't know...something was a little off.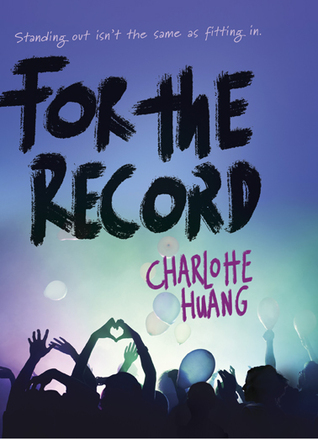 Book: For the Record
Author: Charlotte Huang
Publisher: Penguin Random House
Genre: Young Adult, Music, Contemporary
Rating: 3.5/5 Stars (Again, it was good but could have been better.)
Summary:
If Almost Famous were a YA novel... a raw, honest debut celebrating music, friendship, romance, and life on the road.

Chelsea thought she knew what being a rock star was like... until she became one. After losing a TV talent show, she slid back into small-town anonymity. But one phone call changed everything

Now she's the lead singer of the band Melbourne, performing in sold-out clubs every night and living on a bus with three gorgeous and talented guys. The bummer is that the band barely tolerates her. And when teen heartthrob Lucas Rivers take an interest in her, Chelsea is suddenly famous, bringing Melbourne to the next level—not that they're happy about that. Her feelings for Beckett, Melbourne's bassist, are making life even more complicated.

Chelsea only has the summer tour to make the band—and their fans—love her. If she doesn't, she'll be back in Michigan for senior year, dying a slow death. The paparazzi, the haters, the grueling schedule... Chelsea believed she could handle it. But what if she can't?
Review: FALL OUT BOY!!!!!! (That's relevant.)
I kind of love of music (see: Twitter and Tumblr) and I couldn't not read For the Record. (WHERE IS MY SEQUEL, PEOPLE???!!!)
- Melbourne being awesome and I want to listen to their music now and PEM!!!!
- Overall story and plot was great. (I'm a huge fan of so many bands that I really had to read this book.)
- Lucas Rivers minor plot that ruined things.
- Fat-shaming part of Lucas Rivers subplot.
- Chelsea was pretty selfish at times.
- What Mandy did. Not cool. Ever.
- That I don't have the sequel in my hands right now. (But this is easily fixable if Charlotte wants to write the sequel.)
Overall, For the Record was great and I recommend it to all my fellow music lovers who love books centred around music.